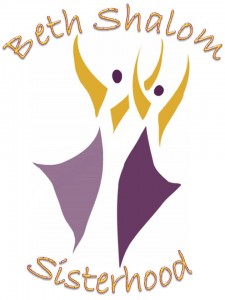 Every woman in the congregation is invited to join Sisterhood.

New members – your first year of membership is free.
Mazel Tov to the 2020-2021 Sisterhood Board!
Management Team...

Cheryl Garfinkel (678-923-2711), Marsha Fish (404-245-4027), and Ellen Levy (404-538-7957)
Membership Team...Merice Kraar (contact person), Tanya Cohen, Bonnie Moscovitch,
Rene Berg & Terrie Bryan
Programming Team...Janet Lane (contact person), Annette Boyle & Jody Kassel
Torch Fund Team... Lisa Hecht (chairlady), Clara Safra, Sharon May & Phyllis Abrams
Treasurer...Janice Bauman
Financial Secretary ... Penny Schwager
Recording Secrretary...Lisa Sturt
Religious School liaison...Linda Zimmerman
Gift Shop...Marcia Moneit, Sheila Schwartz & Regina Newman
Tikkun Olam...Robyn Anshell
Marketing...Dori Kleber
Corresponding Secretary...Tina Wood
Historian... Eileen Cohn
Congregation Beth Shalom Sisterhood is a member of the Women's League for Conservative Judaism (WLCJ). Its mission is to strengthen and unite synagogue women's groups and their members, support them in mutual efforts to understand and perpetuate Conservative/Masorti Judaism in the home, synagogue and community and to reinforce their bonds with Israel and with Jews worldwide.
Mazel Tov to our Beth Shalom sisterhood member, Regina Newman, for being elected as Vice President on the International Board of the Women's League for Conservative Judaism.
Locally, our Sisterhood unites the women of our synagogue with great programming and involvement around the synagogue. Our programs focus on:
Education
Community service
Fundraising
Spiritual and personal growth
Service to the synagogue
We encourage all female adult members to join Sisterhood – no matter what your age, so that we not only have a voice in our synagogue affairs, but also in national concerns that affect Jewish women worldwide. We continue to sponsor successful programs that serve our members and the synagogue community, such as:
Health programs
Torah Fund events (fun programs that support the seminary)
Pre-holiday recipe samplings
Weekly Mah Jongg and our annual Mah Jongg Madness Tournament
Silent Auction and Dinner of Honor
Judaic handcraft events
Membership events (fashion shows, teas, game night)
Participation in the national WLCJ events
We provide a wide variety of events that appeal to different interests while promoting commitment and observance to Judaism, fellowship with other Jewish women and a sense of family in the synagogue. Many of our events are geared toward Sisterhood members, but guests are welcomed. We usually schedule programs Sundays or weeknights, but continually try to identify special interest groups in order to offer programs to the diverse interests of our membership.
For information about the Beth Shalom Sisterhood Gift Shop click here.
**If you are not a CBS Sisterhood member yet, it is not too late to join for the 2018-2019 year.
Sisterhood dues are $40.00.
Checks can be payable to Beth Shalom Sisterhood and be mailed to the synagogue office.
Sisterhood is the heart of Congregation Beth Shalom.
As Sisterhood Members our common goals include:
· Connection to Jewish Women of all generations
· Commitment to our synagogue and our children
· Contribution to the greater Jewish Community
See all of our Upcoming Events or view the full Synagogue Calendar
For more information please check your bulletin, e-blasts or evites or please call:
Merice Kraar, VP of Membership, 770-939-2491 or email mericekraar@comcast.net
Janet Lane VP Programming, 678-907-9119 or email janetruset@gmail.com
Torah Fund
Torah Fund Program
Your contribution to the Torah Fund helps to preserve, promote and perpetuate Conservative/Masorti Jewish Education by supporting The Jewish Theological Seminary, Ziegler School of Rabbinic Studies, Schechter Institute of Jewish Studies, and the Seminario Rabinico Latino-Americano.
CBS Sisterhood Catering
Kiddush Catering
Our catering program is one of our biggest efforts through Sisterhood.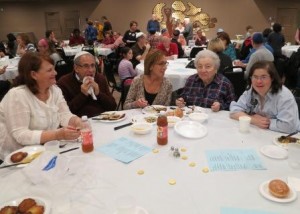 We offer affordable and competitively priced kiddush lunches for bar and bat mitzvahs and other simchas. We also provide weekly kiddush lunches on non-simcha weekends. We always welcome sponsorships for our kiddush meals, so that we can offer a delectable meal to all who attend Shabbat services. Come volunteer your time in the kitchen to help our caterer Jan Adler prepare a tasty meal. We are there on Thursday mornings or Saturday mornings between 9:30 AM and 1:30 PM. We schmooze, chat, cook and have fun. All congregants are welcome to help out. Do a mitzvah for the shul.
Sisterhood Cookbook
Sisterhood prepared a new, user-friendly, kosher cookbook of your recipes, your bubbe's recipes, your zaydie's recipes, your kid's recipes or your own favorites. This great Cookbook is now available at $18 at the CBS Gift Shop or in the CBS Office. Don't miss out on this cherished book for all your cooking needs.
Simply Sensational Cookbook
$18
IN STOCK!!
There are recipes to please everyone from appetiziers to desserts. Many Holiday Dishes….
For your copy or more information, contact the CBS Gift Shop or Rene Montaigne at rmontaigne@gmail.com
Please make checks payable to CBS Sisterhood- Send or leave in the Sisterhood box in the CBS Office.
Mon, July 6 2020 14 Tammuz 5780