Beth Shalom Sisterhood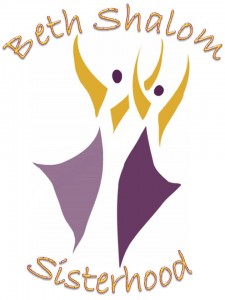 CLICK HERE FOR THE UPCOMING EVENTS
Become a member of
Sisterhood at Beth Shalom
Together . Enjoy. Learn. Laugh . Nosh
JOIN US !!!!
Do You Know What We Do?
Book Club (monthly via Zoom)...Mah Jongg (weekly on Thursdays at 6pm)...
Chai Mitzvah Class (monthly via Zoom)... Gift Shop (call us for an appointment)...Speaker Programs, Game Night, Cooking Classes , Field Trips, Holiday Food Tastings & Health Programs
Do You Know What Sisterhood Supports?
Our Religious School, Youth Group, Preschool, and Kiddush Lunches
Community outreach programs such as Backpack Buddies, Women's Homeless Shelter, Bingo Night at The Jewish Home, and Torah Fund.
Annual Membership Dues- $45
New members of Beth Shalom will receive 1st year FREE membership
If you are not a CBS Sisterhood member yet, it is never too late to join!
Please send your check to the Beth Shalom Office, payable to Beth Shalom Sisterhood.
You can also contact : Merice Kraar at 404-281-3537 or mericekraar@comcast.net
Our Mission :
Women's League Sisterhood of Congregation Beth Shalom links hands with generations of synagogue women by sponsoring and promoting social, educational, and cultural activities. These activities further the perpetuation of Conservative Judaism, Jewish education and family life, and support the well-being of the congregation and broader community. Our Sisterhood is a proud member of the Women's League for Conservative Judaism (WLCJ).
We Look Forward to Seeing You at our Sisterhood Events!
Mazel Tov to the 2023-2024 Sisterhood Board!
Management Team...
Laurie Besmertnik (404-395-4479), Ellen Levy (404-538-7957) and Tanya Cohen (678-637-7242)
Membership Team...Merice Kraar (contact person), Elaine Alexander, Bonnie Moscovitch, Rene Berg & Terrie Bryan
Programming Team...Janet Lane (contact person), Annette Boyle & Jody Kassel
Torah Fund Team... Eileen Cohn (chairlady), Clara Safra, & Sharon May
Treasurer...Janice Bauman
Financial Secretary ... Penny Schwager
Recording Secretary...Lisa Sturt
Religious School liaison...Linda Zimmerman
Gift Shop...Sheila Schwartz, *Regina Newman, & Roberta London
Tikkun Olam...Kathy Heller (chairlady) and Jeannette Oppenheimer
Marketing..
Corresponding Secretary...Melinda Gottfried
Historian... Eileen Cohn
Mah Jongg... Helene Urbaitel
Parliamentarian ...Cheryl Garfinkel
Torah Fund
Torah Fund Program
Your contribution to the Torah Fund helps to preserve, promote and perpetuate Conservative/Masorti Jewish Education by supporting The Jewish Theological Seminary, Ziegler School of Rabbinic Studies, Schechter Intsitute of Jewish Studies, and the Seminario Rabinico Latino-Americano.
CBS Sisterhood Catering
Kiddush Catering:
Our catering program is one of our biggest efforts through Sisterhood.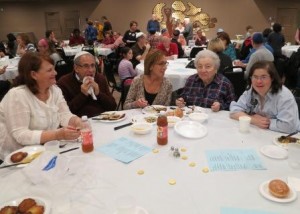 We offer affordable and competitively priced kiddush lunches for bar and bat mitzvahs and other simchas. We also provide weekly kiddush lunches on non-simcha weekends. We always welcome sponsorships for our kiddush meals, so that we can offer a delectable meal to all who attend Shabbat services. Come volunteer your time in the kitchen to help our caterer Jan Adler prepare a tasty meal. We are there on Thursday mornings or Saturday mornings between 9:30 AM and 1:30 PM. We schmooze, chat, cook and have fun. All congregants are welcome to help out. Do a mitzvah for the shul.
Meantime, we are presently offering Curbside Kiddush Brunch/Lunches every other week. Check Beth Shalom weekly email for upcoming dates where you can order delicious lunches to take home.
Sisterhood Cookbook
Sisterhood prepared a new, user-friendly, kosher cookbook of your recipes, your bubbe's recipes, your zaydie's recipes, your kid's recipes or your own favorites. This great Cookbook is now available at $18 at the CBS Gift Shop or in the CBS Office. Don't miss out on this cherished book for all your cooking needs.
Simply Sensational Cookbook
$18
IN STOCK!!
There are recipes to please everyone from appetiziers to desserts. Many Holiday Dishes….
For your copy or more information, contact the CBS Gift Shop or Rene Montaigne at rmontaigne@gmail.com
Please make checks payable to CBS Sisterhood- Send or leave in the Sisterhood box in the CBS Office.
Wed, November 29 2023 16 Kislev 5784